The Aquascape Automatic Dosing System
A Water Treatment Revolution
To keep ponds and fountains looking beautiful, it is important to select the proper water treatments and apply them consistently and accurately. The Aquascape Automatic Dosing System completely revolutionizes pond and fountain water treatments by automatically adding specially formulated treatments based on the size of your water feature. This innovative system makes it easier than ever to ensure your pond or fountain is clean, clear, and sure to impress.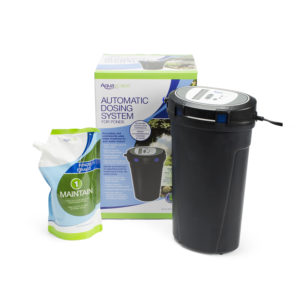 Simplifying Water Treatment Selection
With the wide variety of water treatment options available in the market, choosing what is best for your pond or fountain can be difficult, confusing, and overwhelming. The Aquascape Dosing System simplifies this process, providing select formulations that combine multiple treatments to address a wide variety of issues, including water quality, sludge, cloudy water, scale buildup, fish stress, and more. Our goal is for science to meet simplicity, making it easy to solve any issue without the need to add multiple treatments.
Consistent, Accurate, and Gradual
For pond or fountain water treatments to work effectively, they must be applied consistently and accurately. Until now, adding water treatments regularly was a chore, requiring extreme discipline to regularly add the necessary treatments in the right quantities. The Aquascape Automatic Dosing System works like an IV system for ponds and fountains, automatically adding your choice of treatment formulated specifically for what you need. The system eliminates the guesswork and routine of manually adding water treatments so you can spend more time enjoying your water feature.  Typical water treatment application involves the addition of large doses every week. This approach can shock the ecosystem by changing water chemistry quickly and drastically, negatively impacting water quality and causing stress for any pond inhabitants. By consistently adding small amounts of treatment gradually throughout the day, water treatments become much more effective and safer to use.
Proactive vs. Reactive Water treatments are commonly added to combat a newly discovered issue. However, by the time problems are noticed and the correct treatment(s) are added, it may take several weeks for the issue to be resolved. This reactive approach to water treatments prevents you from enjoying your pond or fountain. The Automatic Dosing System employs a proactive approach to water feature treatment, resolving water feature concerns before they become a problem.
How it works
The Automatic Dosing System is made up of a few simple, easy-to-assemble components, and installation is quick and easy, requiring less than 15 minutes for most setups. The system is set in a location near the pond or fountain and is installed in the ground or conveniently mounted on a post, wall, or fence. The included water treatment pouch is installed in the canister, and the dosing tube is discharged into the water feature. Based on the number of gallons in the pond or fountain, the control panel is then set to the appropriate level using the + and – buttons. When the treatment pouch is exhausted, a new pouch is installed.
Product Callouts:

1. Pond size indication –indicates how many gallons of water are contained in the water feature
2.  + and – buttons – makes it easy to adjust pond or fountain size, automatically adding the correct amount of treatment
3.  X2 Button – doubles the dosage for new ponds, problem ponds, or after a cleaning.
4. Power indicator – indicates that the unit is receiving power from the transformer
Treatment Selection
Choosing the correct treatment is simple, and for most applications, the appropriate staple treatment is included with the system, allowing you to immediately begin enjoying a clean water feature. All treatment formulations and concentrations are designed around the calibrated treatment rates of the Automatic Dosing System, and because the treatment is added slowly and consistently, we can combine several effective ingredients into these powerful formulations. These versatile formulations include four treatments for ponds and two treatments for fountains, providing options for a wide variety of pond issues.
Water Treatments
Maintain for Ponds • Combines our most effective treatments into one powerful formulation designed to successfully maintain ponds and water features.  Includes: • Powerful blend beneficial bacteria, including lithotrophic, heterotrophic, and photosynthetic strains • Contains a powerful phosphate binder that locks up this excess nutrient that would otherwise cause water quality problems • Flocculent quickly clears cloudy water by clumping suspended debris • Detoxifier removes and detoxifies chlorine that enters the pond when adding new water •  Safe for fish and plants
Clean for Ponds • This formulation contains a powerful blend of heterotrophic bacteria focused on digesting sludge and organic matter found in the pond or filtration system   • Ideal for breaking down and reducing decaying organic matter caused by uneaten fish food, fish waste, dead plant matter, and more • Effectively cleans between the rocks and gravel  • Reduces filter maintenance by keeping filter media clean and preventing it from becoming clogged • Safe for fish and plants
Clear for Ponds • A concentrated formulation of ingredients targeted at solving the most stubborn water quality problems • Contains a blend of clarifiers designed to clear suspended debris and reduce debris that attaches to rocks and gravel • Quickly and safely clears discolored or cloudy water • Contains a powerful phosphate binder that locks up this excess nutrient that would otherwise cause water quality problems • Safe for fish and plants
Protect for Ponds • This all-natural formulation contains tea tree oil and other plant-based biopolymers • Accelerates healing of superficial wounds, scrapes, cuts, and breeding abrasions • Protects fish from stress and disease after conducting cleanouts, routine maintenance, or partial water changes • Great for use after handling fish • Does not discolor the water • Safe for use with fish and plants
Prevent for Fountains • Controls unsightly white-scale buildup without damaging fountain surfaces • Prevents stains and unsightly water conditions • Contains a blend of clarifiers designed to clear and prevent debris buildup in the water and on the surface of the fountain, rocks, or gravel • Safely prevents and eliminates foam  • Safe for birds and animals that may drink from fountain • Not safe for fountains containing fish
Clean for Fountains  • Ideal for water features with standing water, including container water gardens and other water features containing fish or plants • Contains a powerful phosphate binder that locks  up excess nutrients to clarify the water • Flocculent quickly clears cloudy water by clumping suspended debris • Safely prevents and eliminates foam  • Safe for birds and animals that may drink from the fountain